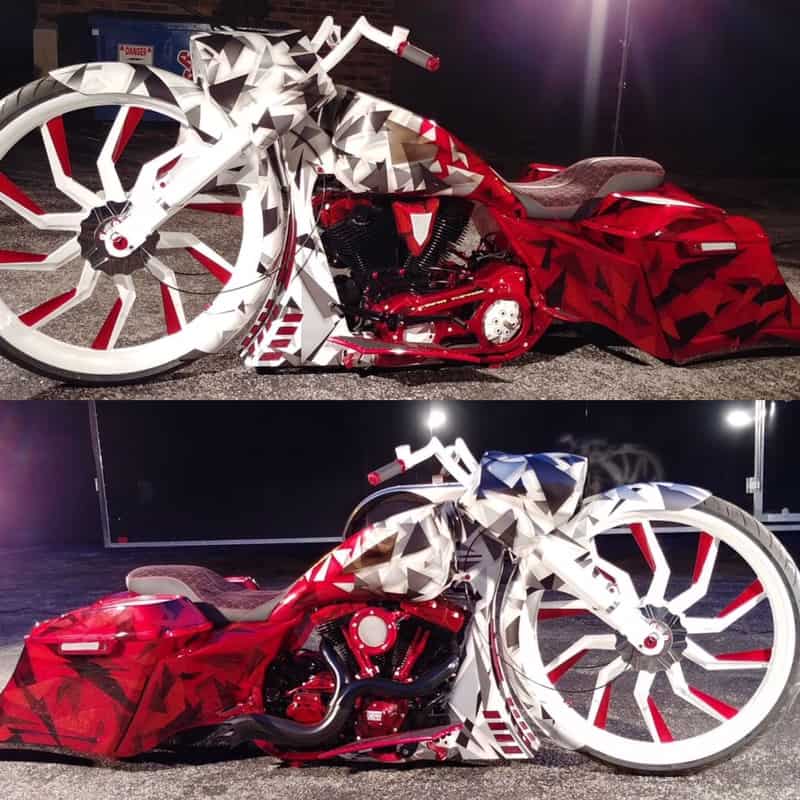 Custom Painting – Motorcycles and Helmets
Custom motorcycle painting and airbrush designs by Psychotic Air can help your
motorcycle stand apart from the rest! Check out our custom motorcycle paint photo galleries and see for yourself how artist Mark Daniels custom painting can transform your motorcycle into an innovative work of art that is all your own. Start out with an idea and watch as an airbrushed masterwork comes to life!
Whether your motorcycle is your go-to daily ride or a show-winning trailer motorcycle, the top quality artistic creations by Psychotic Air will take your bike to the next level and make a powerful statement in your personal style. We apply the best paints, materials and artistic techniques to bring our clients a finish that is simply second-to-none.
Book Your Appointment Online with Psychotic Air
Custom Painting and Airbrushing for Motorcycles and Motorcycle Helmets – Psychotic Air – Call 630-244-3150
Are you considering customized painting services for your ride? Painting is typically viewed as far superior to options such as vinyl decals. Custom painting by an experienced artist provides exceptional quality, intricate design and durability that optimizes your investment.
Psychotic Air provides a wide selection of custom painting services ranging from a single color scheme to full-themed, highly detailed illustrations. Our award-winning illustrations have been featured in several motorcycle industry publications. We pride ourselves on the high level of personalized care and sharp detail that goes into each project. Mark works very closely with our clients throughout the design process to make sure their vision becomes a reality.
Call our shop or simply stop in to meet Mark and discuss what type of artwork you have in mind for your motorcycle. You do not necessarily need to get a completely new custom paint job. An airbrush touch-up can work wonders for your ride and give it a whole new presentation!