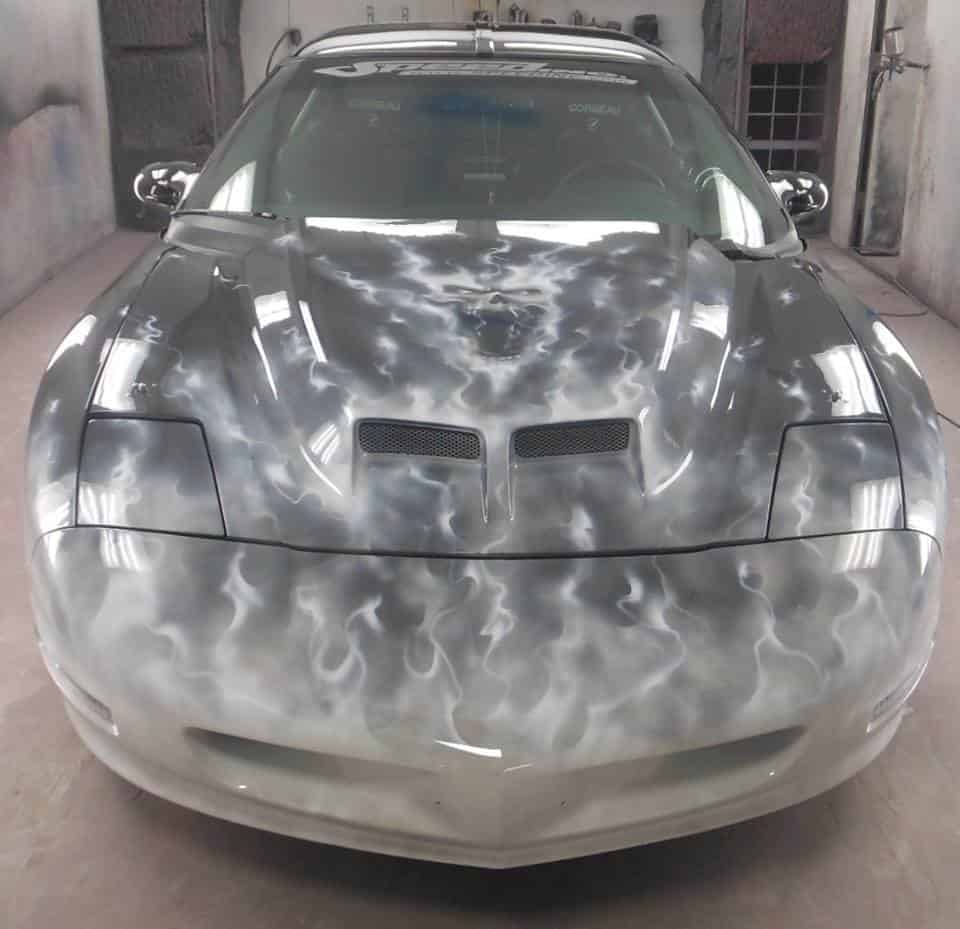 Custom Painting and Airbrushing for Cars and Trucks
A custom paint job by Psychotic Air is an ideal way to express your own style and help your car or truck stand apart from the rest. If you're interested in transforming the appearance of your ride, there's no better way than a custom, professional paint application that suits your distinct personality – and at Psychotic Air we have practically limitless options available to make it happen. Our talented team of creatives can make your vehicle a truly one-of-a-kind rolling work of art.
Try a New Color
Simply changing the color of your car or truck by custom painting can be a great way to upgrade its entire presentation. Although the process may seem basic, it actually calls for a fair amount of preparation. Much of the interior of the vehicle must be taken out and the existing clear coat and paint must also be removed as well. In addition, any imperfections or dents need to be repaired and sealed prior to repainting.
Book Your Appointment Online with Psychotic Air
Selecting the custom paint job you want can be challenging – our experienced artist can help you pick a color that's a good fit for your vehicle and for the imaging you'd like to project. There are many different exciting options available with respect to effect and style - some of the more in-demand custom paint jobs are:
Airbrushing for Cars and Trucks
Custom airbrushing services may serve many purposes. For instance, airbrushing can effectively highlight specific details or the process can also create whole murals on your vehicle's trunk or hood. It's ideal if you'd like to display a full image.
Candy and Chameleon Paints
Chameleon paints are remarkably unique and are rapidly gaining in popularity. It's a quality paint that changes its color depending upon the viewpoint of the person looking at it. The effect is distinct and impactful.
The paint consists of a pigment that functions by separating light into various components. Through manipulation of the pigment it's possible to achieve different coloring effects. Chameleon paints consist of 3 stage colors, with application of a black base first. Next comes a semi-transparent layering of chameleon paint and lastly a clear coat for extra protection. The black base is typically applied because it allows for effective light absorption. This too helps preserve the color's effect within the layer of paint.
Wheels, Tires and Accessory Paints
When it comes to your vehicle's wheels, tires and trim there are many options to consider. For example, applying custom paint the rims alone can turn them into a visual highlight. This same type of custom painting can be done on a range of areas or accessories on your car or truck.
Blackout Packages
Depending upon how you envision the final results for your car or truck, a blackout package can be customizable. In most cases you can select the color you prefer whether it is a matte black finishing or a standard glossy black. You can generally also opt for a specialized finish that utilizes black chrome or color accents.
The key to an ideal blackout package is to ensure the removal of anything that may come off the vehicle. This may include the trim, spoiler, door panels, badges, rocker panels, bumpers, exhaust tips, grille, mirror housing or fender vents.
Without the removal of these individual components, it can be difficult to assure total coverage.
Call Psychotic Air or stop in the see us at our shop on Paramount Parkway in Batavia to learn more about our affordable, professional custom painting and airbrushing for cars and trucks!